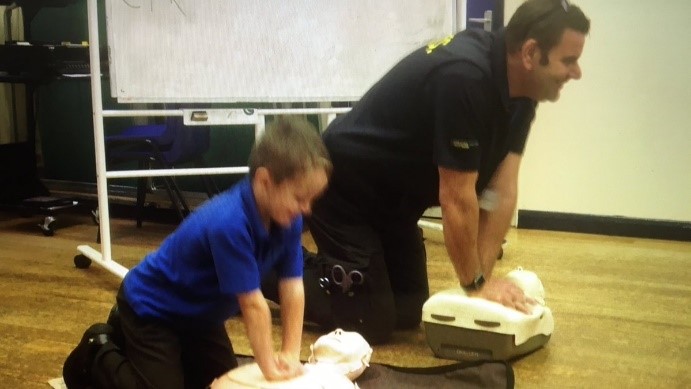 Caythorpe Primary School pupils have been learning CPR and basic first aid as part of Restart a Heart Day.
Young people up and down the country have been learning how to save lives. Restart a Heart Day 2018 saw the partnership once again of LIVES, The British Heart Foundation, British Red Cross, St Johns Ambulance, and all of UK ambulance services, to train a minimum of an incredible 195,000 young people in life saving CPR.
Tuesday 16th October was Restart a Heart Day, an initiative supported by LIVES to ensure as many children as possible learn CPR in case of an emergency.
Caythorpe Primary School was one of the schools in Lincolnshire who benefited from the scheme, with volunteers from LIVES delivering workshops to pupils. LIVES have over 700 volunteers in Lincolnshire, giving up their spare time to respond to medical emergencies as quickly as possible. Statistics from the charity underpin the importance of responding to a cardiac arrest efficiently, as every minute without help reduces the chance of survival by 10%. CPR, one of the skills taught to pupils at Chapel, helps to keep oxygenated blood flowing to the brain and heart.
Nikki Silver, CEO of LIVES states: "Sadly only 1 in 10 people survive an out-of-hospital cardiac arrest. Like a lot of other medical emergencies, the potential for saving a life is dependent upon time; the faster help can be obtained the better the chance of survival.
We are dedicated to teaching as many people life-saving CPR, and improving the chances of someone surviving an out of hospital cardiac arrest."
You can find out more information about LIVES by visiting their website here.