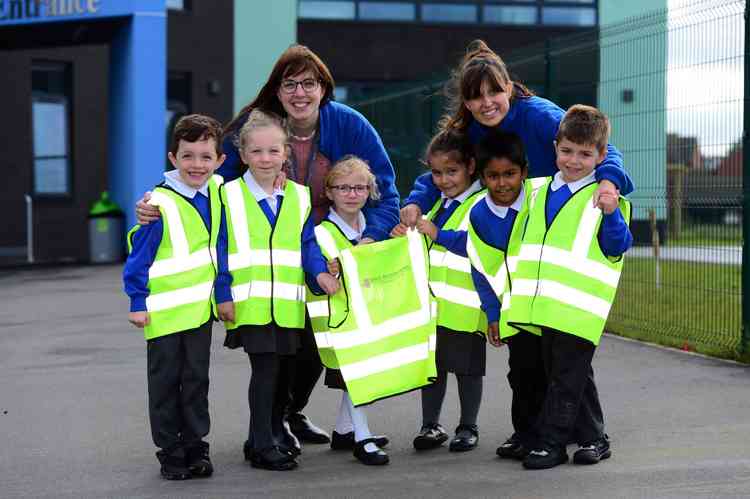 Homebuilder David Wilson Homes have donated dozens of high-visibility vests to Poplar Farm Primary School.
The safety-wear enabled youngsters to take part in October's Walk to School Month, keeping them visible to drivers on their journey to school.
With comparatively few children now making the journey to school on foot, Walk to School Month encourages children and adults alike to think of the many benefits of changing the way they make short journeys.
It promotes the benefits of pupils getting to school on foot – such as being healthier, reducing pollution levels and decreasing congestion on the roads.
Erica McGinley, Head of School, said: "It has been lovely working alongside David Wilson Homes.
"They have been supportive from the moment the school was due to open, providing teddies for every student who started with us in 2018.
"It has been great to continue this relationship and the hi-vis vests are perfect for us.
"We are a walking school and like to encourage our parents and pupils to arrive on foot whenever possible so to receive these for Walk to School Month was fantastic!"
Rachael Harrison, Sales Director at David Wilson Homes East Midlands, said: "As a leading homebuilder, it is one of our main priorities to give back to the community and help wherever we can.
"We're so pleased to be able to help provide the children at Poplar Farm Primary School with the means to enjoy Walk to School Month safely."
The homebuilder is currently working at Newton's Place, a development close to the school, and has made the donation as part of its efforts to engage with and promote the local communities near its developments.
Article Credit: Grantham Nub News and David Wilson Homes