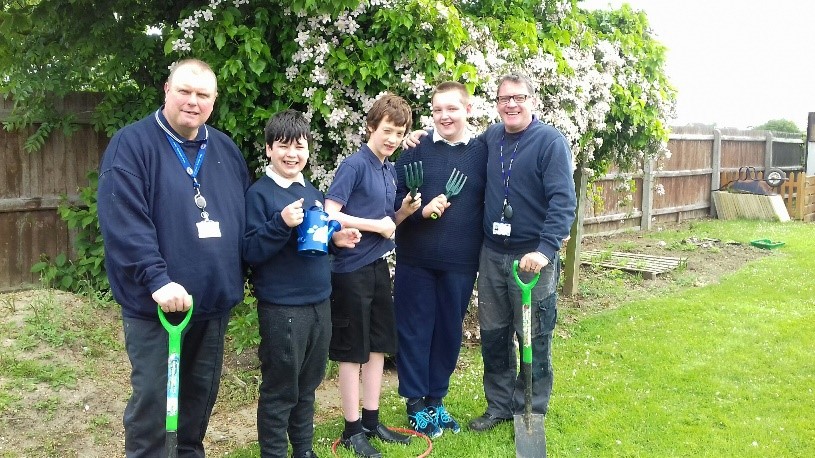 John Fielding Special School bags £2,000 from carrier bag charge fund
John Fielding School have won £2,000 in the Tesco Bags of Help initiative, bagging themselves a cash sum towards their project to boost pupil wellbeing.
Tesco teamed up with Groundwork to launch its community funding scheme, which sees grants of up to £5,000, up to £2,000 and £1,000 raised from carrier bag sales in Tesco stores awarded to local community projects. Shoppers voted in the Boston Tesco Superstore and John Fielding Special School came in 2nd place.
Their project:
'Boosting pupil wellbeing through outdoor learning'
John Fielding Special School provides a broad, balanced and differentiated curriculum designed to meet the unique needs of all of their pupils. The pupils range in age from 2 -19 Years old and all have severe learning difficulties, some also have an autistic spectrum disorder, epilepsy, a physical disability, sensory impairment, medical needs and/or a communication difficulty.
They strive to develop the skills of their young people so that they are prepared for life beyond school. And this is where the "Boosting pupil's wellbeing" idea came from.
The best way to get the most out of the classroom is to leave it and take learning outside. Outdoor learning can make for happier, healthier, well-rounded students, particularly for those with special educational needs.
John Fielding School has an area on school grounds that has been utilised as best it can as a horticulture area for pupils. This gives the children time to play and explore in the soil, incorporating play and gross motor skills. It also reduces muscle tension and builds endurance and hand dexterity. They have also found it helps lessen negative feelings, anxieties, aggressive tendencies, and helps to reduce tactile defensiveness.
This funding from Tesco Groundwork means they can now expand on the current horticultural area in order to create a fully inclusive and working outdoor environment. They will install a wheelchair friendly pathway accessing each work station, 3 composting beds, 5 raised planting beds, an outdoor workspace, and then plant sensory flowers throughout the area.
Richard Gamman, Head of School, said:
"The Tesco grant will enable us to provide wheelchair access and new raised beds to our horticulture area, allowing all of our children the chance to access this facility. The children will be able to learn about life cycles of plants, grow food crops, and understand the whole process from seed to table."
Lindsey Crompton, Tesco's Head of Community, said:
"Bags of Help has been a fantastic success. We have been overwhelmed by the response of our customers and it's been great to give people a say on how the money will be spent in their community. We can't wait to see the projects come to life."
Since launching in 2015, Bags of Help has awarded more than £25 million across more than 3,000 local projects.
Groundwork's National Chief Executive, Graham Duxbury, said:
"It's just the beginning for Bags of Help and we're really excited about the future.  The scheme will be permanently open for applications, and as grants can now be used for not just the development of, but also for the use of local outdoor spaces, we expect even more groups will now have the chance to benefit.
"Its projects like these that really help to capture the public's imagination by illustrating what can be achieved when communities are given the support and the encouragement they need to create better places where they live."
Funding is available to groups who are seeking to use and develop outdoor spaces in ways that will benefit their local community. Anyone can nominate a local project and local organisations can apply. To find out more visit www.tesco.com/bagsofhelp
[Pictured: Assistant Site Manager Dewayne Cross. Students: Bartosz, Mason and Jake, and Site Manager Chris Jones.]