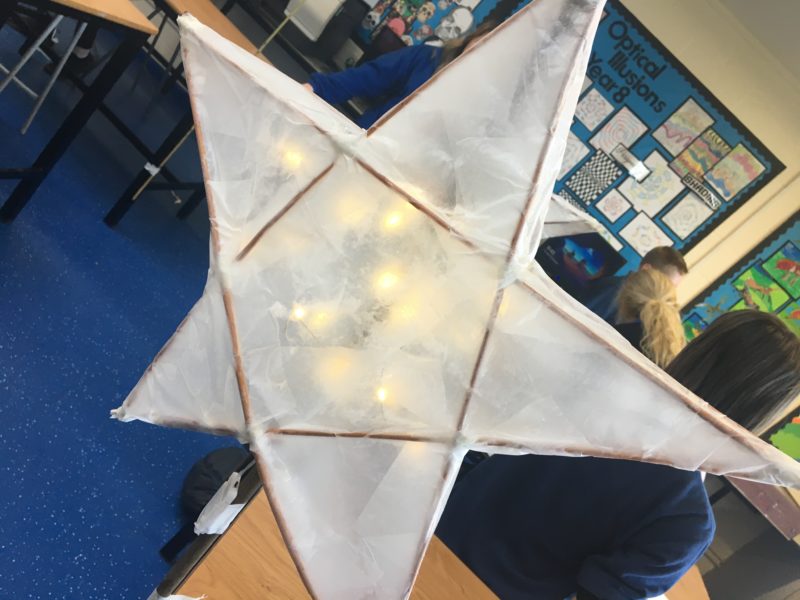 Year 7, 8 and 10 pupils at Woodlands Academy have played their part in the preparations for Spilsby Light Night 2020, set to illuminate the town on Saturday 7th March.
The Different Light Collective who are running the event state, 'As well as projections and lighting on the front of Sessions House, the Methodist Church and other buildings in town, there will also be an 'Illumaphonium' for members of the public to have a go on near the statue of Sir John Franklin. This is a big outdoor screen near the George Hotel where you can play Space Invaders, a beautiful interactive sound and light piece called the Celestial Sound Cloud inside St James' Church, a Silent Disco, a chance to draw some digital graffiti on Tinn Criddle's building, and even a special VR experience in the New Life Church!'
Visual artist, Nadya Monfrinoli, is one of two creatives working her way around local schools to develop lanterns for a light parade at the event, based upon a stars and moon theme.
Woodlands pupils were delighted to have the opportunity to create their own star lanterns, which they are excited to showcase at the event. Working with Nadya and Bruce Knight, a member of the Different Light Collective, they did some amazing work to produce their own elements of light.
After creating two stars from sticks and tape, they worked the stars into a 3D shape, adding light before sticking papier-mâché over the stars.
You can watch a video of their work here.
Pupils from Woodlands Academy will also be displaying some of their amazing prints at an exhibition of photographs at the Methodist Church on the evening. All the prints on show have been created by pupils in Year 9, 10, and 11. You can view and purchase some of their work here.
All proceeds come back into the school's photography department.