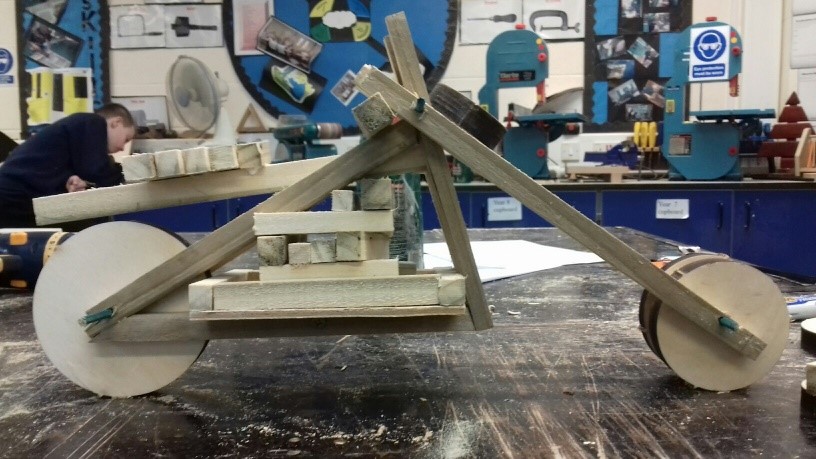 Students from Woodlands Academy in Spilsby have been asked by the organisers of Lincolnshire Bike Week, to design and build a 10ft high wooden bike.
Woodlands Academy is a specialist secondary school for SEMH pupils (Social, Emotional, and Mental Health).  Steve Everton, Teacher, said, "We have our own Forest School at Woodlands Academy and the students learn green wood carving among many others skills. We are chuffed to be asked to build the 10ftx20ft bike for the Sutton on Sea Bike Night, and the students are excited to get started!"
COASTAL EVENTS CIC, supported by the BRITISH MOTORCYCLE FEDERATION & the MOTORCYCLE ACTION GROUP are organising Lincolnshire Bike Week, and expect to see thousands of visitors flock to the Lincolnshire coast this July.
Adrian Marson, Director at Coastal Events:
"This collaboration came about when two of Coastal Events CICs' Directors, Nikki Shaw and Patti Marson, were chatting with Woodlands Academy teacher Steve Everton, about their plans to build a giant bike to burn on the beach for the Grand Finale of Lincolnshire Bike Week 2018. The Directors knew Steve Evertons' creative skills and excellent wood working abilities and during the conversation Steve suggested it may be the kind of exciting project that Woodlands Academy students would like to get involved with. We then established sponsorship of the materials needed from a very generous local company – Thompson Timber."
"We were delighted when Woodlands Academy agreed to take on the project as we are a community focused company and aim to connect and create community cohesion involving as many local people as possible when delivering this awesome event for Lincolnshire."
"We are sure the students engaged in the design & build will be very pleased with the finished result and rightly proud of their considerable achievement when the giant bike is set alight at Sutton on Sea beach during the Grand Finale of Lincolnshire Bike Week 2018."
"Everyone is welcome to attend this FREE spectacular event. A big thank you to Woodlands Academy and its students for getting involved!"
Lincolnshire Bike Week is a jam packed festival with a main stage and awesome live music line up at the central site in Trusthorpe. The event kicks off with the Mablethorpe Bike Night on 18th July 2018 and finishes the following Wednesday with the Sutton on Sea Bike Night on 25th July 2018. The students giant 'Burning Bike' will be lit between 9 & 10pm.
To find out more visit: http://lincolnshirebikeweek.co.uk/
[Pictured above: A scale model of the bike built by Students at Woodlands Academy]