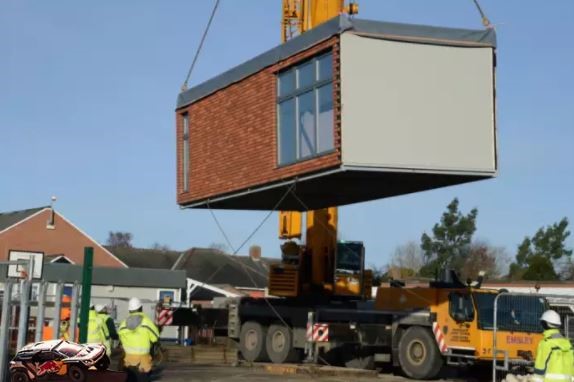 During February half term, Ambergate Sport's College received a brand new school hall and staff room as part of their £1.4 million pound expansion project. Work has been progressing will since the school was granted the Condition Improvement Fund (CIF) to expand its classroom and dining facilities last year.
The two-storey block extension will include eight new classrooms, as well as a much needed dining hall and kitchen extension to cater for an increase in pupil numbers. Ambergate Sports College currently has 141 pupils and will be receiving new toilets, a new reception area, staff room and extensions to the kitchen and sports hall.
Headteacher James Ellis said: "We are oversubscribed as a school so the grant has enabled us to improve facilities whilst catering for an increase in pupil numbers in the future. We are currently in phase one of the project, which includes building the school hall and staff room, which arrived in one block. The eight new classrooms are being built offsite as part of phase two of the project."
Pupils will soon be able to study a wider range of subjects following the expansion.
Mr Ellis added: "Not only will we be able to provide students with better quality classrooms but we will be able to introduce more subjects. The new extension will include a Design Technology Classroom and an Art room. We would never have been able to offer these subjects before."
The new building will be built to the left side of the school on the playground which will then be extended following the build. The old mobile classrooms on the field will eventually be removed.
The whole project is set to be completed by June.