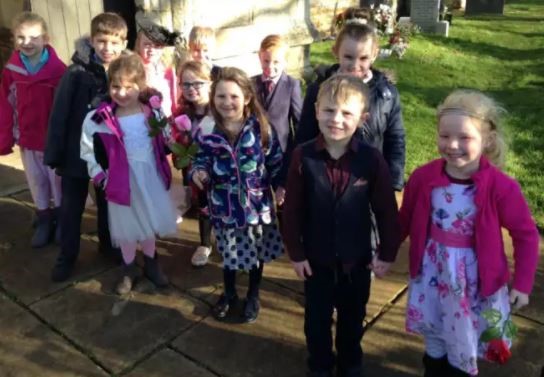 Caythorpe pupils say "I do" with Haribo rings!
Children from Caythorpe Primary School dressed up in their finery to stage a mock wedding at their local church. Pupils in Reception, Year 1 and Year 2 took part in the pretend wedding ceremony at St Vincent's Church, as part of their church topic.
Reception and Year 1 Teacher Claire Turner said: "We have been looking at churches and why they are important. We decided to stage the wedding ceremony as an example of what kind of celebrations take place in church." All the pupils took on the different roles including the bride and groom, bridesmaids and guests. Reverend Stuart conducted the ceremony as the bride walked down the aisle to the sound of The Wedding March and exchanged Haribo rings with the groom!
Annie, who took on the role of the bride's mother, said: "I enjoyed it because I was the bride's mother. At the end we had to go outside the church and have a picture. I had to wear a hat. We learned about the different features of the church, like the cross."
Bridesmaid Poppy enjoyed walking down the aisle, "I had to walk down the church with a flower," she said. "I really enjoyed the wedding party after."
There was no such thing as cold feet for groom, Charlie. He said: "We had to give each other some rings because we got married. I liked being the groom because my friends pretended to be my mum and dad."