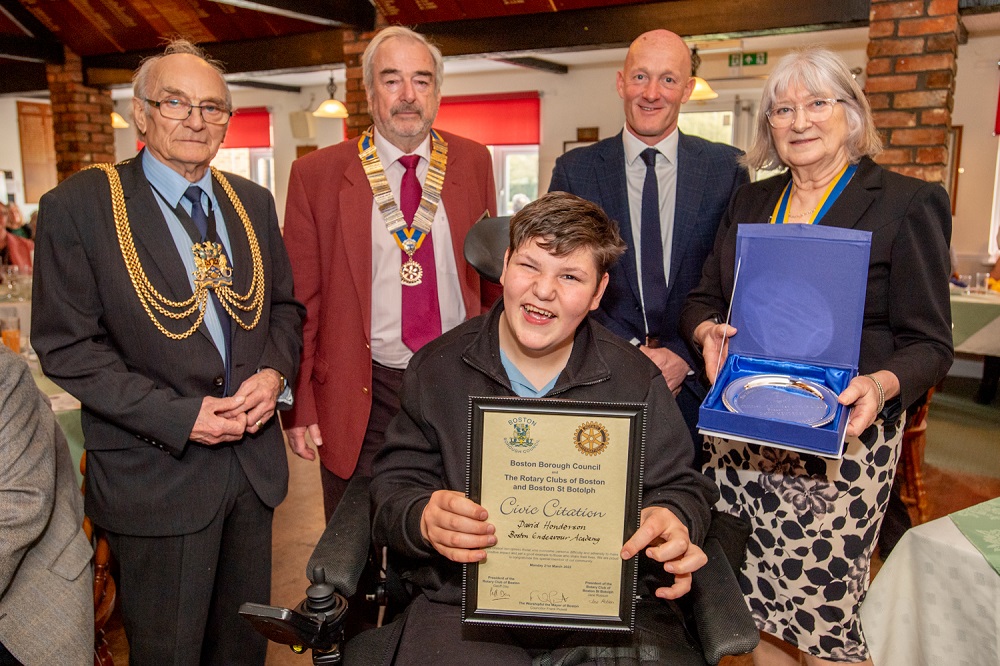 Local young people have been celebrated at The Boston Children of Courage Awards, hosted by the Rotary Clubs of Boston.
The awards are given to those who have shown exceptional courage in their lives by either overcoming personal adversities or through personal sacrifice for others.
Boston Endeavour Academy pupil, David Henderson (15) was nominated for remaining 'positive and upbeat' despite a painful leg condition.
David's Class Teacher Amanda Brooks said:
"Over the last few years, David has struggled to use his legs effectively which has affected his use of his walker. In September 2021, David had surgery to straighten both his legs with the intention of improving his mobility.
"For several months, David had to keep his splints on with his legs elevated. He has had to make regular trips to Sheffield Hospital and in January we received confirmation from the hospital that his legs have healed well. This meant the splints could be removed, he could then resume the use of his specialist equipment and commence weekly hydrotherapy sessions as a form of rehabilitation.
"David will continue to require high levels of input from the specialists involved but despite all of the challenges presented to him and the immense levels of pain that he has experienced; he has remained positive and upbeat. David has overcome every hurdle.
"We are incredibly proud of him and can't wait to see what the future holds for David and his progress towards walking independently."
[Main Picture: David with Boston Mayor Frank Pickett, former Boston goalkeeper Paul Bastock, Jane Robson Rotary President for Boston St Botolph and Geoff Day Rotary President for Boston. Photo by John Aron Photography.]
Earlier on in the month, Grantham held its annual Children of Courage Awards too, hosted by the Grantham and Kesteven Rotary Club. The award's purpose is to recognise children who have demonstrated courage, despite the odds, in overcoming physical, economic, social disabilities or impairment (mental or physical). Grantham Additional Needs Fellowship took pride in nominating pupils from Ambergate & Sandon.
Mrs Gardner, Class Teacher, attended alongside a pupil in Wembley class to receive the award, and she said:  
"I have worked with this pupil since September, and it has been a privilege to watch him grow, not only in stature but in confidence and resilience. He has proven to be a valued, popular member of the class, helpful, and has an infectious sense of humour. He is receiving his award in recognition of the challenges, changes and obstacles he has overcome in his life recently. He has applied himself and worked to the very best of his ability and acts as a positive role model to his peers. His attitude towards learning is commended, and he continues to take on the challenges around him. He displays great tenancy and enthusiasm in school and at home. I speak on behalf of the Ambergate team that we are very impressed with this young man through the high levels of dedication, commitment and resilience he continues to show. We are immensely proud and are delighted that he is recognised for his level of courage."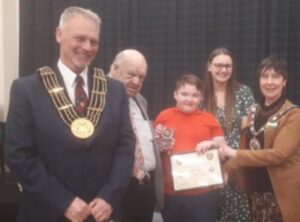 Miss Gray, Class Teacher, attended alongside a pupil in Oak class to receive the award, and she said:  
"Archie is a child who always brings a smile and energy into a room. Archie has experienced challenges recently and has shown his courage and determination to strive, despite all challenges he encounters. Archie can always be found smiling, talking to others or showing off with his awe-inspiring dance moves. He has even found a way to dance in his wheelchair and has developed some new moves! Archie has fantastic relationships with everyone at school, and we are always glad to see his smile. He makes excellent personal and academic progress at school, always wanting to achieve his best. He particularly enjoyed science, where he is keen to participate in experiments and explore around him. Archie has been and continues to be an inspiration to everyone around him by displaying continued resilience, courage, and a positive attitude towards life and its challenges. We speak on behalf of the Sandon team, and we could not be prouder to be presenting him with the award this year." 
The recipients attended the event with their families and the wider community to celebrate their achievements. They received many gifts and donations as part of their award. We are very proud of the pupil's achievements and want to congratulate them on their awards!