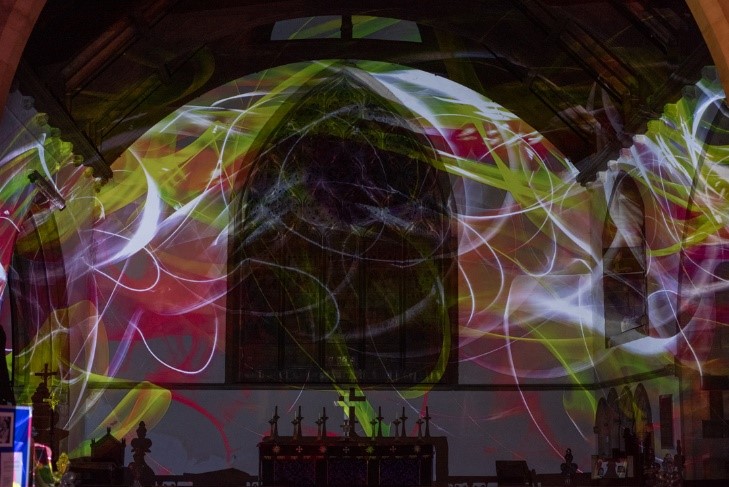 On Saturday 26th March 2022, Spilsby Town in Lincolnshire hosted another 'Light Night', and we are thrilled to announce that pupils from Woodlands Academy photography department were asked to produce a series of light painting images to be projected onto part of St James Church in Spilsby to show case their amazing creative work!
The event itself was held at sites across the centre of Spilsby and thanks to funding from Arts Council England, together with local support from East Lindsey District Council, Spilsby Town Council, and a large number of local businesses, the event was completely free to attend.
As darkness fell, Spilsby was lit up with amazing light that filled the town with colour and energy creating an amazing visual spectacle!
Free programmes were available on the night and these included a trail map showing where all the main lighting installations could be found, plus people were encouraged to look out for smaller hidden light moments too.
Pupils were given a two week window to produce the work and without fail they fully engaged and produced some awe inspiring images to meet their deadline.
The pupils work was on display at St James Church via a large monitor whilst at the same time their images were projected onto the church wall which looked amazing!
The light painting shots was positively received with various members of the public asking if they could purchase the work to hang on their walls as they were inspired by what they had seen.
Carl Smith, Headteacher, said:
"We are very proud of our pupils, they worked hard on this project. All the visuals will now go on display across the school to show case their creativity and talent. A huge well done to all our pupils who were involved in Spilsby Light Night, you are a credit to the school and to the Spilsby community."
CLICK HERE to visit the Spilsby Light Night Twitter page.