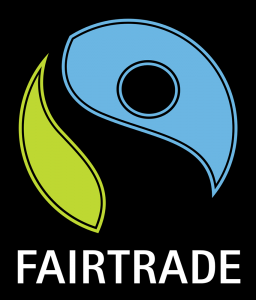 Sandon School
During Fairtrade fortnight, Oak Class hosted a Fairtrade Cake Sale. The class created posters to go around the school and in each class register. They also researched what Fairtrade meant and how it is better for farmers around the world. The class made sure their posters were eye-catching and contained all the information to advertise the sale. Oak asked all staff members and pupils if they would like to donate a cake to the bake sale, and they received lots of lovely and yummy donated cakes made with at least one Fairtrade ingredient.
On the day of the cake sale, all the children helped decorate the classroom with Fairtrade flags and bunting. They used green and blue plates as they are the colour of the Fairtrade symbol. Each member of Oak took it in turns to serve the different classes and staff members that came to visit their shop making sure to tell them that the cakes were all Fairtrade. Oak Class worked really hard on their customer service and counting the money correctly.
Sandon had a visit from John from the Fairtrade charity based in Grantham, who came dressed in a Fairtrade Banana suit. He explained to the children about the importance of Fairtrade and how the money raised on the day was going to impact farmers and their families around the world. The children asked lots of interesting questions including how bananas grew and where in the world they come from.
Drawing the day to a close the pupils from Oak class counted out the money that was raised and were amazed to find out that they had actually raised £73.10! Oak Class were really excited and pleased with themselves for selling so many cakes and working so hard throughout the day. A big well done to the pupils of Oak Class and a huge thank you to everyone who donated a cake.
Ambergate Sports College
As part of Fairtrade fortnight, Ambergate hospitality pupils decided to host a cake sale to raise money for the farmers and workers who grow our food in developing countries.
Hospitality were able to use their skills to prepare a selection of yummy treats using a variety of Fairtrade products. This included brownies and shortbread biscuits! We also served staff Fairtrade tea and coffee.
The pupils turned their classroom into a café for the afternoon for lower school pupils. Each lower school class was invited to come for a cake, squash and a sit down. Pupils used their customer service skills to serve all the children and staff very politely.
Overall, the event was a great success and pupils managed to raise an amazing £85! Thank you to all who supported and donated.