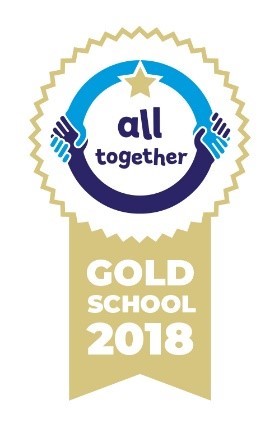 Throughout the last academic year Ambergate and Sandon were working together to achieve the 'All Together School' Status from the Anti-Bullying Alliance. We are pleased to announce that both Sandon School and Ambergate Sports College have been awarded GOLD Status!
An 'All Together School' is a school that has been recognised for its work to reduce bullying and improve the wellbeing of its pupils over the course of the All Together programme.
In order to achieve this status Ambergate and Sandon pupils took part in a range of anti-bullying activities, their views were gained in a well-being questionnaire and anti-bullying became a prominent focus across both schools.
One of the main tasks of becoming an 'All Together School' was for pupils to understand the definition of bullying;
'Bullying is something that can hurt you on the inside or on the outside. It can hurt you on the outside by hitting you and hurting you physically, and it can hurt you on the inside by name calling or hurting your feelings. Bullying is done on purpose, it is not an accident. It is bullying if these things happen more than once.'
This supported pupils to identify behaviours that were not allowed within school and establish what they would do if they or somebody else was being bullied;
Ambergate and Sandon will be taking part in Anti-Bullying Week next term during 12th November through to 16th November.