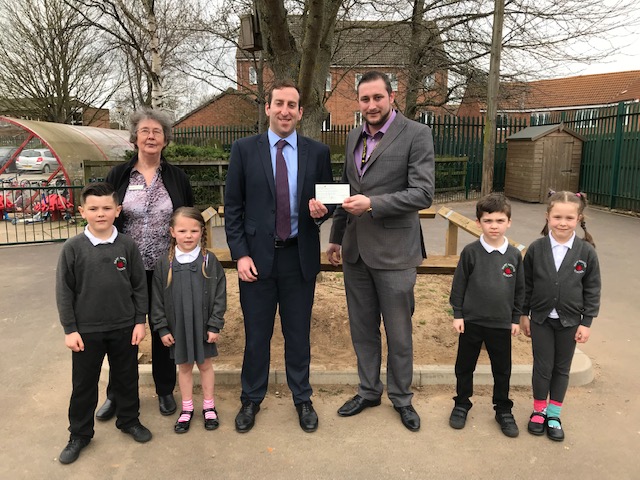 Pupils and staff at Isaac Newton Primary School were delighted to receive a funding boost from 'Moto in the Community Trust' as they seek to develop the resources and playground markings on their Key Stage 1 playground.
'Moto in the Community Trust' is the charitable arm of Moto Hospitality, the UK's leading motorway services provider. The closest venue to Grantham is just north of the town, on the A1 at Gonerby Moor.
The Trust was launched in 2005 as a grant-making charity supporting local groups and partners close to Moto locations across the country. In 2018, they surpassed their fundraising target of £5 million and have since doubled that objective to £10 million.
Nick Maclean and Pam Gibson, both from Moto Grantham, attended the school to hand over the cheque that will support outdoor engagement and provision during lessons and playtimes at Isaac Newton.
Nick explained, "Each Moto location is given the opportunity to adopt a local school specific to their geographical area.  These partnerships build strong community links and provide excellent opportunities for our charity to make a real difference to the schools with our book program and grants that are available for the schools to apply for."
Chris Heathcote, Headteacher of Isaac Newton, added, "We really appreciate the support from Moto and other local businesses who help to provide us with excellent resources, particularly when school budgets are stretched. The children and staff are really looking forward to having their new playground completed."