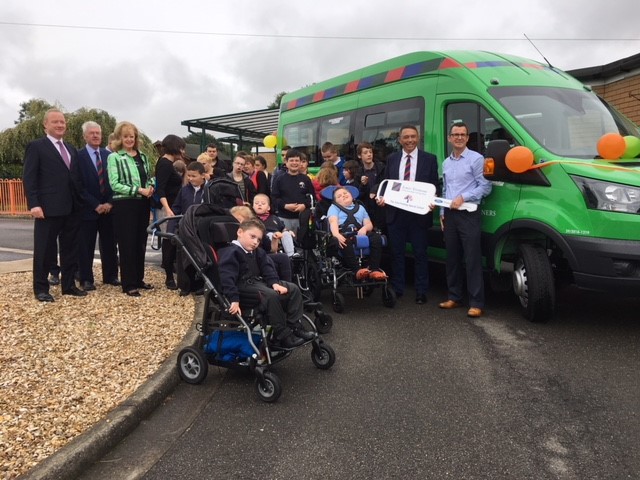 Rory Underwood presents new mini bus to John Fielding School
Rory Underwood, former England Rugby Union Player, visited John Fielding Special School in Boston this week, to hand over keys to a brand new mini bus.
The Lord's Taverners Minibus programme has been operating for over forty years and since the programme began in 1976 over 1,200 minibuses have been donated to special educational schools and organisations throughout the UK.
The iconic green minibuses enable schools to engage pupils in sporting and recreational activities and help them develop life skills such as visiting shops and interacting with people in the local community.
John Fielding Special School provides a broad, balanced and differentiated curriculum designed to meet the unique needs of all pupils. The pupils range in age from 2 -19 Years old and all have severe learning difficulties, some also have an autistic spectrum disorder, epilepsy, a physical disability, sensory impairment, medical needs and/or a communication difficulty.
John Fielding Special School have fundraised themselves to afford the £17,000 self-help contribution towards the new bus!
Richard Gamman, Head of School, "It has been a pleasure to welcome Rory Underwood, and representatives from Lord and Lady Taverners here today to officially present our new Mini Bus.
It is our mission at John Fielding School to prepare our young people to make a contribution to their community but to do that we need to be out there – at the local shops, the swimming pool, the college, the Church, in the town centre and further afield.  It is a mini bus that enables us to achieve that and now having this new bus from Lord's Taverners we can support our student's ability to be part of, to be visible in, cope with and enjoy their local community."
Rory Underwood, added, "It's been great to visit the school today and meet the pupils and staff. It's such a pleasure to hand over a Lord's Taverners mini bus to another great cause."