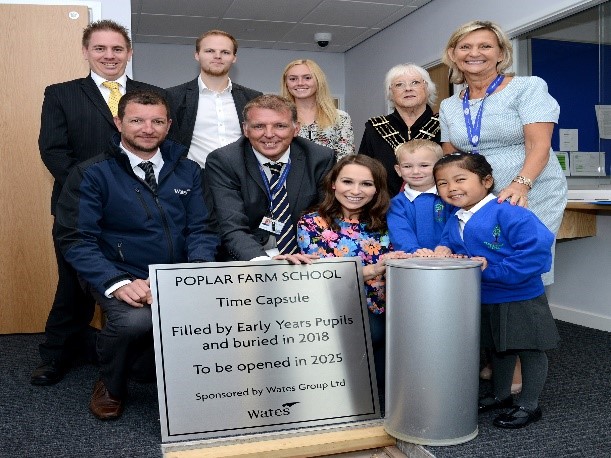 Channel 5s Jen Pringle officially opens Poplar Farm School!
TV personality Jen Pringle unveiled the plaque to commemorate the official opening of Poplar Farm Primary School in front of parents, delegates and pupils at the brand new state-of-the-art school in Grantham.
BBC Radio Lincolnshire came along to interview the parents, staff and pupils. Live broadcasts were made throughout the morning into the BBC Radio Lincolnshire Breakfast Show with Scott Dalton.
The ceremony began with a speech from Principal Jenny Wheeldon who explained the 18-month process behind the development of the impressive building that dominates the landscape on the Newton's Place housing estate.
A short film was shown giving Poplar Farm parents an introduction to C.I.T. and the schools they work with.  Poplar Farm became the tenth setting to join the expanding Trust in Lincolnshire.
Jen Pringle, famous for her role as a presenter and voiceover artist on Channel 5s Milkshake, lifted the curtain to unveil the plaque before a variety of memorabilla was placed in a time capsule by a handful of pupils and Jen. The time capsule itself will be opened in seven years time when the first cohort of pupils will be ready to leave Poplar Farm and move on to secondary school.
Guests were then treated to tours of the building and a piece of Poplar Farm School cake as they celebrated the opening of the school that will eventually house 420 pupils by 2026.
The event concluded with a special '100-year' RAF flypast. This theme was woven into the day, with children and adults discussing how schooling has changed during the last century.
Jenny Wheeldon, Principal of Poplar Farm, commented: "Today is the culmination of an amazing team effort to go from an opening bid in front of the Department for Education to standing in front of our first cohort of pupils.
What a magnificent building this is and just as many people are transforming their new houses into a home, we are transforming this building into an outstanding school. Together we can shape our children's future."
Jen Pringle, added: "It's been a privelige and an honour to be here today at Poplar Farm Primary School. The teachers and the children are an asset to the school, even though it has only just opened.
The school is going to progress from strength to strength. The facilities are above and beyond anything I've ever seen at a school, they are extra special."
Peter Bell, CEO of C.I.T, concluded: "I would like to thank Jenny Wheeldon, Principal of Poplar Farm School, the C.I.T Team, the Local Authority, and the Department for Education, who have all worked so hard together, to open this fantastic educational facility.  It was wonderful to see so many parents and families, who also joined us today."
TO VIEW THE RAF FLYPAST, PLEASE VISIT: https://youtu.be/sycyTXELukU