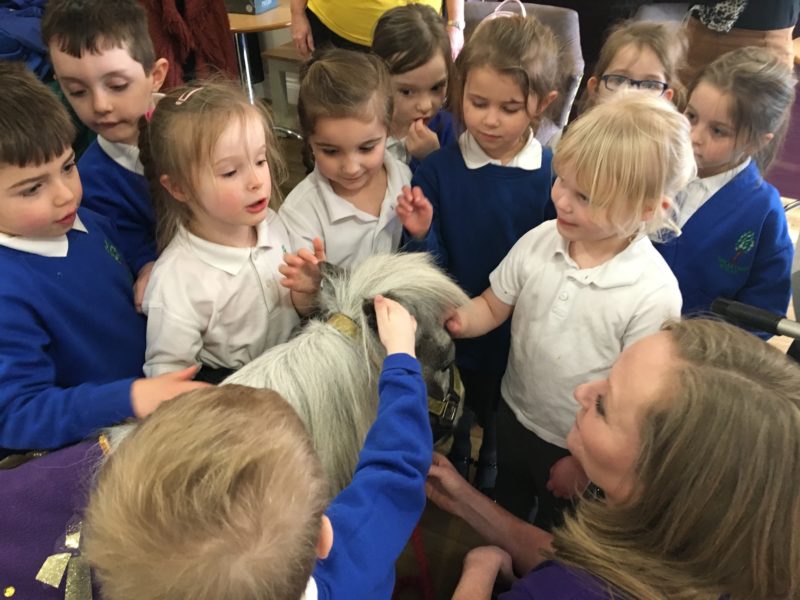 Sixteen fortunate children from Poplar Farm School joined residents at Newton House Care Home to meet Alfie the Therapy Horse who visited all the way from Leicestershire!
In the second of a series of visits between the pupils and residents as different generations experience and enjoy communicating with each other, 14 pupils from Reception and two from Year 1 were rewarded for their hard work in school by meeting Alfie the Therapy Horse.
The children had the opportunity to stroke Alfie before watching him do his trademark tricks of waving and spinning around – Alfie even nodded and shook his head to answer questions!
The children were also amazed to learn that his bright green shoes were made at Build-a-Bear Workshop!
As Alfie trotted off to meet other residents around the care home, the children sat down for a biscuit and some juice before playing a game of Animal Bingo with the residents.
Last week, Year 1 pupils enjoyed their first visit to the care home as they listened to a ukulele band.
Upcoming visits include making pancakes and meeting the residents for the first time for some children, whilst the residents are also due to visit Poplar Farm to read books for World Book Day and discuss their previous careers as part of the school's 'Superheroes' topic.