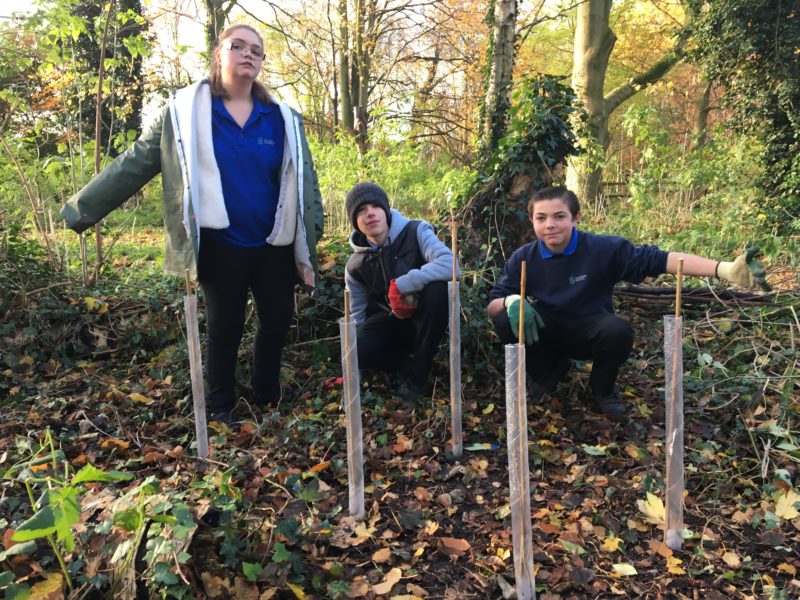 After successfully applying for 345 new trees and bushes from the Woodland Trust earlier in the year, Key Stage 3 pupils at The Priory School recently set to work planting their new greenery which is positioned in their Forest School, and the borders around the school field.
Classes have been taking it in turns working in teams to clear space in the designated areas, including chopping down branches and raking leaves, before digging holes and planting the saplings in an attempt to beat the cold weather that will be filtering in over the winter.
Following adverse weather last year, numerous trees in The Priory's Forest School were damaged and blew down. The new trees and bushes from The Woodland Trust's 'Free Trees for Schools and Communities' programme, will increase the density of the area, encouraging more wildlife to visit the Forest School.
The Woodland Trust's Schools and Community Engagement Manager Karen Letten said: "Trees create inspiring learning spaces – natural, sustainable, and dynamic outdoor classrooms where pupils can mix mud with maths and spades with science while connecting with nature and having fun. It's these lessons that the children will remember well into adulthood."
The Woodland Trust commissioned research that shows pupils who plant trees felt that they were 'doing their bit' to help the environment and remember it as a significant experience.
Defra (Department for Environment, Food and Rural Affairs) is supporting the Trust to deliver 400,000 trees for state-funded primary schools in England over four years. Over the same period, Sainsbury's, IKEA FAMILY, players of People's Postcode Lottery and Yorkshire Tea are funding 1.8 million trees free to schools and education institutions in the UK as part of their ongoing partnerships with The Woodland Trust.
Click on the image below to see a video of the pupils hard at work: