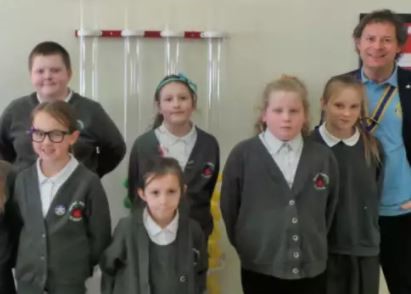 Isaac Newton Primary pupils reach for the stars Rotary award
Children from Isaac Newton Primary School have received the Rotary Star Award for being 'good citizens.' Grantham Sunrise Rotary Club hosted a special assembly in school earlier this month to present the nominated children with a rotary star certificate and badge.
As part of the initiative by Rotary that aims to support and encourage local young people, teachers at the school were asked to nominate children who have been exceptionally good citizens by helping and supporting others, the environment, their school and their community and who have demonstrated 'Service above Self', the international motto of Rotary.
The award winners were chosen for a variety of reasons including: always helping others in class and being kind, for always having lovely manners and reminding other children when to use their manners, settling well into school and becoming a valuable member of the team and for always having a lovely smile for everyone.
President elect Maggie Welton, who organised the project, said: "It is a wonderful project that brings out the very best in good citizenship between the young people."
President Lez Jones added: "We have heard some lovely stories and citations of heart-moving acts of kindness by the youngsters."
Each child had their act of good citizenship read out loud to their fellow classmates before they were presented with a Rotary Stars badge and certificate during the assembly. The project is now expanding to other local primary schools in the area.
[Photograph courtesy of Grantham Journal]