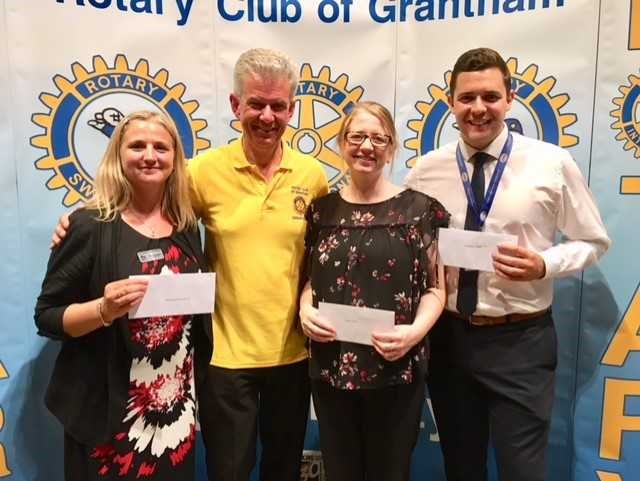 C.I.T Schools supported again by Grantham Rotary Swimarathon
The Rotary Swimarathon have this year raised over £36,000 and donated to 49 local causes.  Three C.I.T. Schools were awarded funding at this year's Swimarathon presentation evening, held at St Wulfram's Church on Tuesday (19th) evening.
Caythorpe Primary School received £600 for much needed Early Years Foundation role play equipment. Sandon School received £500 and Ambergate Sports College received £1,000 towards their Archery Booth Project, expanding their sporting facilities for additional needs children.
Ashley Caress, Assistant Head at Ambergate Sports College, Kate White, Assistant Head at Sandon School, and Katie Brockington, Head of School at Caythorpe Primary School, were all present at the event and were handed the cheque by David Close, President of the Rotary Club of Grantham, during a special event at St Wulfram's Church.
Rotary Swimarathon Chairman Roger Graves said £801,615 has been raised in the 29 years the event has been taking place, with entrants swimming 9,804 miles in total.
"The RotarySwimarathon is a Community event and we endeavour to support as many charities and deserving causes in and around Grantham as possible. This year we were delighted to be able to support Sandon School, Caythorpe Primary and Ambergate Sports College. We know the money will be well spent to benefit the pupils."
Mr Graves thanked the corporate sponsors including Downtown as main event sponsor and lane sponsors Buckminster Trust, Chattertons Solicitors, Grantham Book Services, Hood Parkes & Co, HSBC UK, John Cussell Jewellers, KBR Gas Services, Mark Bates Ltd, Specsavers, Vale Protective Coatings and Viking Signs.
Roger went on to announce the award and cheque recipients, with Marcus Meadows, Downtown retail Operations Director, doing the presentations.
[Pictured above right: Katie Brockington – Head of Caythorpe School, Roger Graves – Chairman of Swimarathon, Kate White – Assistant Head of Sandon School, and Ashley Caress – Deputy Head of Ambergate Sports College]