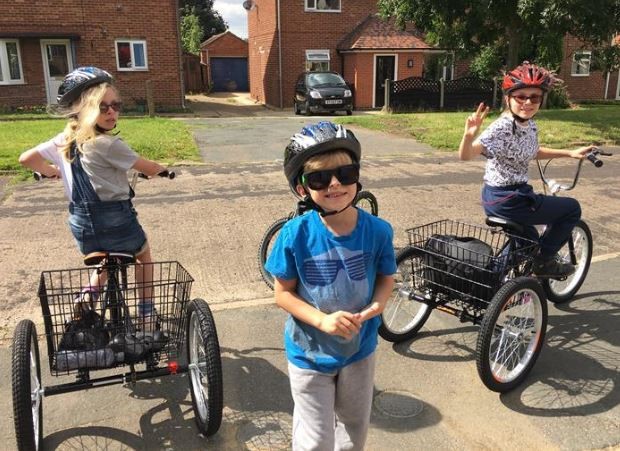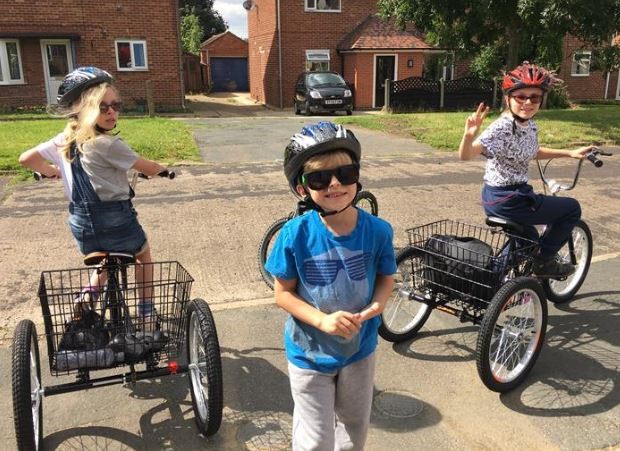 WE HAVE BEEN INFORMED TODAY (13TH JUNE) THAT THE TRIKES HAVE NOW BEEN FOUND AND WILL BE REUNITED WITH THE TWINS THIS AFTERNOON!
THANK YOU FOR YOUR SUPPORT.
Two pupils from GANF Schools have been left devastated after callous thieves stole their specially adapted tricycles.
GANF are trying to help the family raise money to replace the trikes and get the girls mobile again. Please click here to support the girls. THANK YOU. Please read on for the full story…
Danielle and Stacey Rae, who were given just a ten per cent survival rate when they were born at 24 weeks and have cerebral palsy, autism and epilepsy, were given the tricycles, worth over £200 each, as a surprise for their 12th birthday, last September.
Their mum, Samantha Rae, said: "The girls are absolutely devastated. They took their bikes everywhere. They last used them to cycle to Wyndham Park with our neighbour on Saturday afternoon.
"We left them at the side of our house when we went to bed at 11pm and I realised that they had gone missing at 4am, when I got up to help feed my four-week-old grandson. I was hoping it was just kids messing around and that they would be returned later that day but we haven't seen them since."
The family contacted the police, who are appealing for information, but the theft has had a big impact on the girls.
Samantha added: "Stacey has been so upset and crying since we told her whereas Danielle, who doesn't show emotion very well, has said that she is angry, which I have reassured her that it is ok to feel that way.
"These were not just any ordinary tricycles. They were a lifeline for the girls and gave them independence. They can't walk far so the trikes helped them to keep up with their friends and gave them a feeling of fitting in. Despite their age, they do know that they are different."
The family moved to Grantham two years ago so the girls could attend Ambergate Sports College.
Samantha added: "The girls have waited a long time for the trikes. We were originally quoted £1,500 for each trike to be specially made, which we couldn't afford, but knowing how much the girls would benefit from them, our family pitched in and we managed to buy two from a website in time for their birthday last year."
Since Samantha appealed for information on social media, her post has been shared over 100 times.
Samantha, added: "The response has been overwhelming. Everyone has been amazing. A local man, who doesn't even know our family has even offered up an award for their return. I couldn't believe it."
Despite their difficulties, the twins have remained resilient throughout their young lives.
Samantha added: "The girls have had a really tough time growing up but despite everything they have been through, they are always so happy and full of beans. Despite being twins, they are like chalk and cheese. Danielle is very comical and Stacey believes everything you tell her. We now just want their trikes back."
A spokesman from Lincolnshire Police said: "Two tricycles, black and pink in colour, were stolen from a property on Ash Grove, Grantham, between 11pm on Saturday, June 2 and 4.30am on Sunday, June 3. Both tricycles included built-in baskets.
"Anyone with information should call Lincolnshire Police on 101."
[Photograph's courtesy of The Grantham Journal]