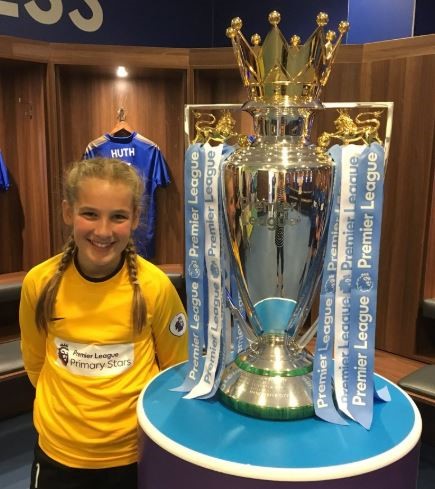 Caythorpe pupil nominated for Primary Sports Person of the Year!
Maddie Stevens, a pupil at Caythorpe Primary School has been nominated for Sports Person on the Year at this year's Golden Apple Education Awards.
11-year-old Maddie, has attended Caythorpe since reception and at just 9 years old she took part in her first equestrian competition competing against 20 other children, most of which were 2 years older than her. During this event Maddie showed great courage and desire resulting in her being presented with a prize for her determination (biggest smile) and self-belief.
In September, during a PE lesson, Maddie began playing football with her class. During these sessions Maddie showed incredible attributes needed for a goal keeper and so, after just a few lessons, a girl's football team was created to play in a local match. Following the success in this match the team were then entered into the local SSP competition along with 18 other schools. Despite never playing football before, the team went on to win this competition with Maddie only conceding 1 goal during the whole event.
An invite to the Skegness PLPS tournament then provided Maddie's team with their next challenge. Again they finished in 1st place, winning all their games with Maddie again showing huge determination and courage against strong opposition, not conceding a single goal. Maddie and the team went on to compete at the National finals at Leicester City FC.
Throughout the year Maddie has gone from strength to strength and embedded herself as a key figure in both the school's and Lincolnshire County teams. This year Maddie has competed for the Lincolnshire County Netball squad and in a regional competition for the Lincolnshire Sports Hall Athletics Team.
All of the skills and talent that Maddie possesses have been used to help her school into four county finals in sports such as Pop Lacrosse & Hockey. It has also led to her being accepted into the local Gifted & Talented Sports Academy delivered by Carre's Grammar School.
Mr Ricky Pledger, Sports Coach at Carre's Grammar School:
"I first met Madeleine almost four years ago when I began delivering PE sessions at Caythorpe Primary School.
During the last four years I have worked closely with Maddie, a girl determined to challenge and push herself to gain success. I have not come across many children that, at a young age, learn from mistakes and failure very quickly yet remain graceful in defeat. Even when Maddie is unsuccessful, she smiles and shows respect by offering congratulations to the winners."
Katie Brockington, Head of School at Caythorpe Primary:
"Maddie is a wonderful student. She excels in sport but also her contribution in the classroom continues to shine with her recently being awarded the Head Teachers award for outstanding effort and for being an inspiring role model to others. I wish her luck with this nomination."