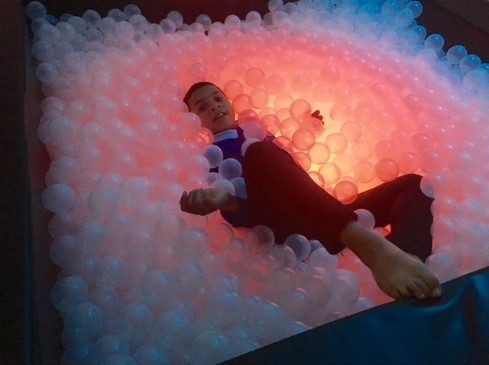 John Fielding Special School provides a broad and differentiated curriculum designed to meet the unique needs of all their pupils. Pupils range in age from 2 -19 years old and all have severe learning difficulties, some also have an autistic spectrum disorder, epilepsy, a physical disability, sensory impairment, medical needs and/or a communication difficulty.
John Fielding School have been fundraising like crazy for the past 12 months to raise money to refurbish their old and worn down Sensory Room. The room was devised 9 years ago, and with the equipment being used on a daily basis, it became in a poor state of repair.  Many items had to be removed completely and the room could eventually only be used as a calming space for pupils. The space required complete refurbishment and the purchase of new bespoke sensory equipment.
The project was led by staff member, Lucy Allen, who with help from other staff, helped to organise a summer fair last year that kicked off their fundraising efforts with a very respectable £5,000! Further donations then came in from local resident, Mrs Dugdale, along with local businesses: Freshtime UK Limited, The Medlock Charitable Trust, Coveris UK, Boston Netball Club, Lord Taverners, The Waynflete Charitable Trust, Headway Lincolnshire, Boston Freemasons, and Boston Lions Club; John Fielding School eventually raised over £30,000 for their project!
The sensory room installation is now complete and has a new name – 'The Wow Room'. The interactive room now provides a space for the pupils to engage and explore the environment, giving them positive effects on their ability to react and interact with the larger world around them.  Sensory Learning is an instrumental part of the learning process for special needs pupils, providing another way to learn skills through sensory interaction.
Richard Gamman, Head of School, "It has been fabulous to watch this project come to fruition over the past few months. I am so grateful to all of the sponsors who have supported the project. We are delighted that so many were able to join us today. They were able to see first hand what the impact of the resources they helped to provide is having on the learning and enjoyment of pupils throughout the school."
An official opening was held on Thursday 3rd May. The Mayor of Boston, Cllr Bernard Rush, cut the ribbon, officially opening 'The Wow Room'.
Steve Evans, Managing Director of Freshtime UK said, "The Freshtime Futures Trust was set up 18 months ago to help support children and teenagers up to the age of 24 in and around the Boston area. The aim of the Trust is to support young adults, whether it be in education, sporting grants or apprenticeships."
"When we received the application for the 'Wow Room' at John Fielding it was a perfect fit with what the Trust is trying to achieve. We were pleased to be able to offer a reasonable donation in order to help such a large group of children."
Yvonne Wood, representing Lord's Taverners, who also supported the project, said, "It has been a pleasure to be here today, a year on from my first visit in support of their application. To see all the youngsters thoroughly enjoying their experiences in 'The Wow Room' has been lovely."
[Pictured in main Photograph: Mayor of Boston – Cllr Bernard Rush, John Stokes – Head of Procurement at Freshtime UK, Steve Evans – Managing Director of Freshtime UK, Yvonne Wood – Lord's Taverners, Dr Richard Gamman – Head of John Fielding School, Lucy Allen from John Fielding School, Louie Wong & Fred Clarke from Boston Freemasons, Demi-Lee Garwell & Becky Young from Coveris, Loraine Stevens from Boston Bowls Club, Local resident – Mrs Dugdale, Chris Jones – Site Manager of John Fielding School, Demi Weir – Apprentice at John Fielding School]