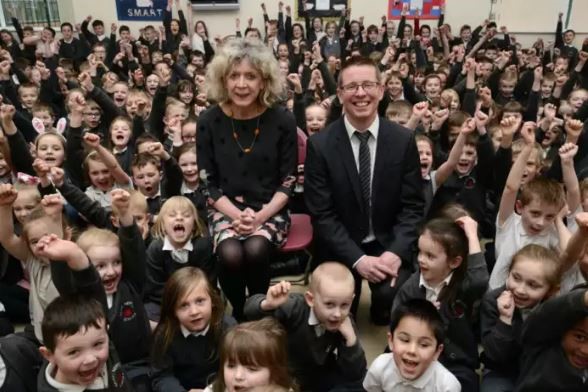 Gill Anderson, Deputy Head of Isaac Newton School, has retired after 26 years' dedicated service.
Mrs Anderson received a warm send-off from pupils and staff just before Easter. The celebrations included a special assembly featuring many of Gill's former pupils coming back to the school to bid farewell to the departing deputy who also taught Year 2.
Mrs Anderson said: "I just feel really privileged to work with such a dedicated and determined staff, strong and supportive parents and children who are eager in every aspect of their learning."
"It makes for a very vibrant school community and I feel very lucky to have been a big part of it."
Mrs Anderson enjoyed seeing her former pupils and hear them reminisce about the old days. The mum-of-four, who lives in Sedgebrook, has a three-year-old granddaughter, with another granddaughter due in September. Mrs Anderson says is looking forward to a holiday with husband Bob in France, and added: "Finally I will have time to have the garden exactly how I want it. I also hope to start painting again."
Headteacher Paul Hill said his departing deputy had made a huge difference to the school in her 26 years there. He said: "Mrs Anderson's dedication to the school has ensured that thousands of children here have been well looked after in terms of their emotional, academic and physical well-being. The children whom she has taught can feel extremely fortunate to have counted her as their class teacher. I have never met any teacher who is as insightful, well researched and most importantly child centred."
He added: "I feel blessed to have worked with Mrs Anderson for the past four years. She has been a real inspiration and we wish her well in her retirement."
School site manager Julie Haddock also said: "Gill is a lovely lady, who will be sorely missed by all pupils, staff and parents, half of whom she will have taught herself."
Mrs Anderson's replacement as deputy head is former assistant headteacher Mrs Sara Pask, who will continue to teach in Year 2.
[PHOTO COURTESY OF GRANTHAM JOURNAL]