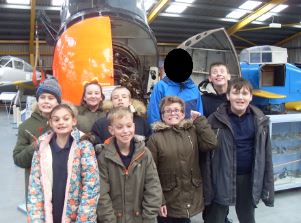 On Thursday 28th November, Stamford Bridge class took a trip to Newark Air Museum as part of their topic work, 'Past and Present'.
Throughout the term, pupils have been studying the early 20th Century such as WW1 & WW2. This included what food, clothing, toys, schools or planes may have looked like. The pupils focused especially on the history of flight and explored changes of time with regards to WW2 planes e.g. Lancaster Bomber, Spitfires and the Vulcan.
On arrival at the museum, the class found a suitable area that was safe and not too crowded, where they could leave their belongings, in order to engage with set activities. With the help of Miss Hamilton, Mrs Scarlett and Mrs Keltgen, the pupils worked together to investigate old tinned cans, and guess what food was inside, the pupils explored different aircraft used in the war, as well as observing the changes over time with regards to navigation and flight. The class also looked through some RAF artefacts such as cameras, badges, gas masks, identification cards and uniforms, used all those years ago.
The pupils used key knowledge and facts, they had previously learnt about, such as inventions we still use today, to support them when engaging in set activities. Everyone took part and after all of their hard work, the pupils were treated to sitting in a helicopter and a Squadron 45 aircraft!
Well done Stamford Bridge!