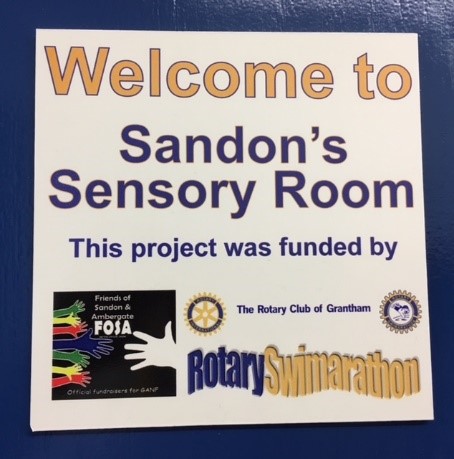 Sandon School have been fundraising for 12 months to raise money for a Sensory Room for their pupils and earlier on this year they achieved their target of £11,000!
They received generous donations from many including Rotary Swimarathon who donated a whopping £5,000!! Friends of Sandon and Ambergate (FOSA) raised a superb £4,000, and Lincolnshire Provincial Grand Stewards Masonic Lodge donated £750. Other donations to complete the target raised came from parent donations, Grantham Kesteven Rotary Club, Portage and Wings of Love Church.
The sensory room installation is now complete and the new interactive room provides a space for the pupils to engage and explore the environment, giving them positive effects on their ability to react and interact with the larger world around them. Sensory Learning is an instrumental part of the learning process for special needs pupils, providing another way to learn skills through sensory interaction.
Stela Plamenova, Headteacher at Sandon School, "Pupils and staff are very grateful to all of the organisations that spent time and fundraised towards our new Sensory Room. As an Outstanding school we keep refining our curriculum offer and having a new, state of the art sensory room, will enrich even further the opportunities available for pupils at Sandon."
An official opening was being held on Tuesday 24th April. Alistair Holmes, President of Rotary Club of Grantham, cut the ribbon, officially opening the new sensory room.
Alistair Holmes, President of the Rotary Club of Grantham said, "Rotary and the 'RotarySwimarathon' are all about supporting the local community. When members of the Club visited the school last year they were amazed by not only the whole set up of Sandon School but the commitment and sheer dedication of all the staff and helpers, and at the same time so proud of what the pupils achieve. Clearly the development of the Sensory Room is a further enhancement to help those pupils with the highest level of learning difficulties."
Roger Graves, Chair of RotarySwimarathon added, "The donation of £5,000 came from the 2017 event and was the main Grant awarded. We are delighted it has gone to such a worthwhile project and to see it come to completion today."
Katie Bennington, Chair of FOSA said, "It was wonderful to be invited to the official opening of Sandon's new sensory room. As always there was a fantastic atmosphere in the school and it was very clear that the money FOSA donated has been put to exceptionally good use. The sensory room is an excellent addition to the school and will benefit both current and future pupils."
Pictured: Alistair Holmes – President of the Rotary Club of Grantham, Roger Graves – Chair of Rotary Swimarathon, Stephen Short & Andrew Redman from Rotary Club of Grantham, Katie Bennington – Chair of FOSA, Libby Simpson & Pepi Halliday from Grantham Kesteven Rotary Club, Stela Plamenova – Headteacher of Sandon School, Sara Ellis – Assistant Headteacher of Sandon School.