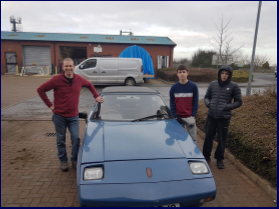 Woodlands Academy are pleased to announce that the challenge to restore a Reliant SS1 to MOT standard and sell it for a profit has been achieved!
Woodlands students have been busy restoring the car as part of their BTEC Engineering Qualification.
It proved to be the perfect car for this learning exercise, easy to work on and also economical when it came to purchasing the new parts required.
The car is seen here shortly after it passed its MOT, making it ready for sale.
A progress report was regularly posted on a Reliant website dedicated to their sports cars so it was no surprise that an eager buyer was found through the site.
Alan was looking for a car to complete the North Coast 500 which is a scenic 500 mile route around Scotland and when he saw what we had done with our SS1 he knew it was the perfect car for the journey. Rather bravely, Alan's first drive in the car was to return to his home in Scotland with it, a 360 mile epic first run! It took him 10 hours but he reported back to us that the car ran very well and was a credit to the students and staff that had worked on restoring it.
We now look forward to Alan posting some photos of the car in some stunning Scottish locations!