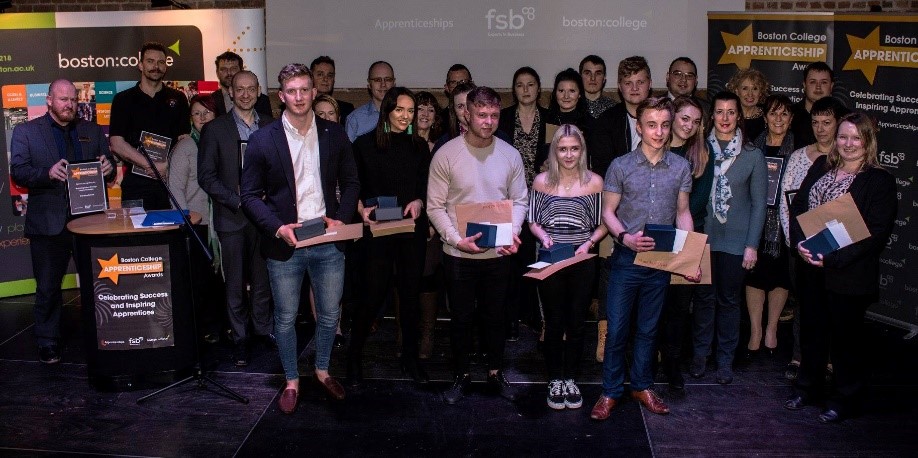 Double Success at the Apprenticeship Awards 2018
Congratulations to Demi Weir and Richard Gamman from John Fielding School in Boston! They both won awards at a fantastic evening celebrating successes of Apprentices and Employers at the Apprenticeship Awards 2018.
The event was held at Boston College and Demi won for 'Supporting Teaching and Learning in Schools' and Richard won a special award for his 'Individual Contribution to Apprenticeships', from his work at both The Garth School and John Fielding School.
Richard Gamman, Head of John Fielding School, said, "I was delighted to be invited along to the Boston College Apprenticeships Award Ceremony on Thursday 8th March because one of our Year 2 Apprentices, Demi Weir, had been nominated as Apprentice of the Year.  I was absolutely thrilled when it was then announced that Demi had beaten off 14 other Apprentices from other disciplines, ranging from Building to Baking, to win the overall award of Apprentice of the Year!"
"Later in the evening, I was pleased to have the chance to collect an award on behalf of C.I.T. for 'Continued Support of Local Apprentices'.  This gave me the chance to explain how much the organisation benefits from the energy, enthusiasm and commitment of Apprentices like Demi.  I was able to tell the audience about how Demi comes into work with an unfailingly positive mindset, has astonishing rapport with our students and a natural gift for this line of work."
"The evening ended with a surprise when I was given the final award for 'Individual Contribution to Apprenticeships'.  This was in recognition of work at The Garth School and John Fielding School, which both have had vibrant Apprenticeship programmes and a real commitment to developing our Apprentices to be the TAs, Teachers and School Leaders of the future."