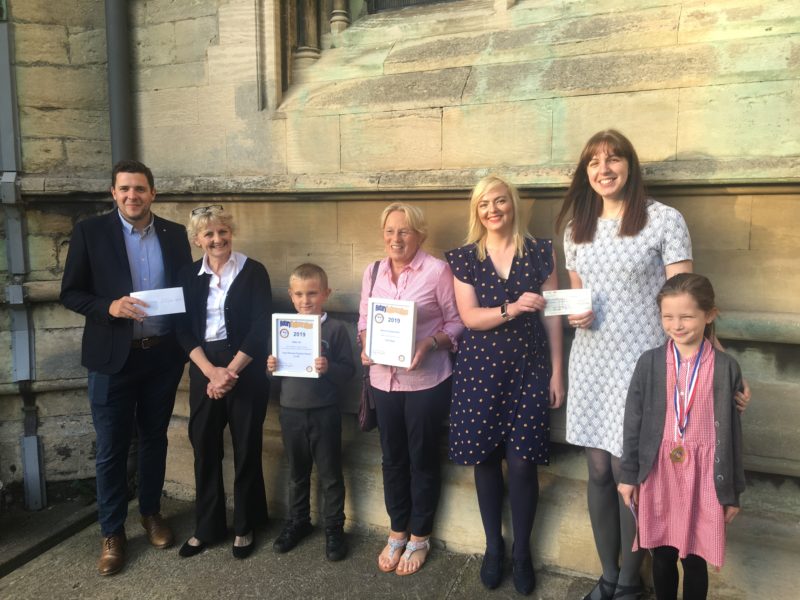 The Grantham Rotary Swimarathon is celebrating its 30th year, and welcomed schools, businesses, friends and families to swim as many lengths as possible in 55 minutes to raise funds for local causes. A record 270 teams took part and over 1,600 people signed up for the event which was showcased across three days back in February this year. The Swimarathon then held a special awards ceremony at St Wulfram's Church on Thursday 27th June 2019.
Isaac Newton Primary School were rewarded for their fantastic fundraising efforts, picking up Adult of the Year and Primary School who Raised the Most Money awards. Isaac Newton have been a regular feature of the event for over two decades, and this year filled a whole pool of eight lanes and raised over £2,000, achieving the feat of best school fundraisers for the second year running!
The Adult of the Year award was presented to Isaac Newton Teaching Assistant, Mrs Toni Toole, who has been organising teams from the school in the event for over 22 years.
In return for their excellent hard work, Isaac Newton were awarded £750 towards their Outdoor Classroom repairs, which forms part of their Forest School project.
Poplar Farm School were also delighted to receive £250 from the Swimarathon which will be used to build raised beds for their garden growing project. The school made their debut in the event with a team of staff swimming 145 lengths and beginning a legacy of participating in the event whilst pupils are not yet old enough to compete. The raised beds will add to an extensive garden project taking place at Poplar Farm which has included building a fairy village and planting trees to represent the opening of the school last September.
Grantham Additional Needs Fellowship (GANF) completed the trio of C.I.T settings to receive funds from the Swimarathon. The opening day of the event saw eight teams from GANF participate with six teams from Ambergate Sports College and another two from Sandon School combining to swim over 800 lengths. GANF also provided a staff team for the Swimarathon.
They were rewarded with a £500 cheque that will be used to support the refurbishment at Wyville Village Hall which includes the installation of a new wet room to ensure the neighbouring Forest School is fully inclusive for pupil wheelchair users.