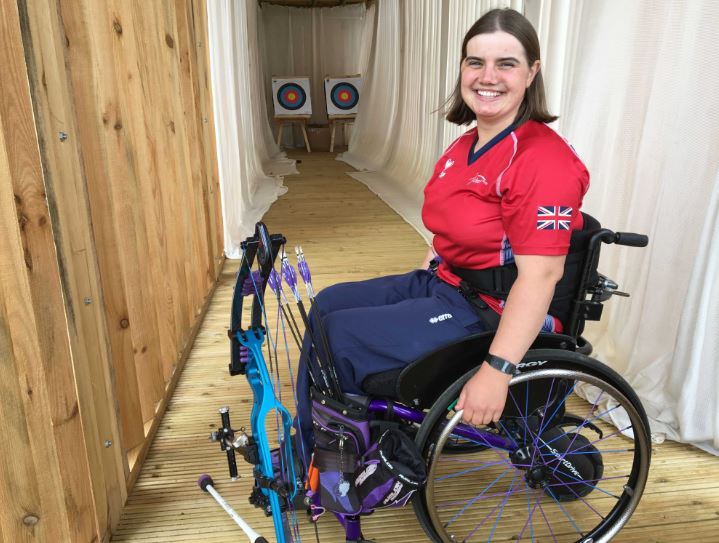 Pupils at Ambergate Sports College welcomed Team GB star Victoria Rumary to open their new archery booth after an extensive fundraising effort.
The school raised £14,000 through Sport England, Friends of Sandon and Ambergate (FOSA), The Rotary Swimarathon, Tesco Bags for Help, and a sponsored bike ride by school staff.
The booth consists of two lanes and comes complete with a disability access ramp, making it a fully inclusive facility. Expanding Ambergate's sporting facilities for pupils, the booths possess a stop curtain allowing modification for each lane to meet participants' specific needs.
Victoria Rumary stunned pupils with the shooting prowess that has propelled her to World number two in the W1 category of para-archery. She also showed the pupils her most treasured medals, including a Bronze from the 2017 World Championships.
Victoria, who lives in Scunthorpe but trains at Lincoln Archers, was joined by a former Ambergate pupil, Damian Jameson, who also shoots at a high level winning the Nottinghamshire Regional Championships on two occasions.
With pupils desperate to have a go themselves, PGL Caythorpe kindly sent a volunteer to work with groups of pupils for the rest of the afternoon.
One pupil explained: "We have all been really excited to have a go at archery. I had such a good time and even scored some points. We all really want to see Victoria on TV at the 2020 Paralympics."
Headteacher, James Ellis, said of the new facility, "The archery booth is a fantastic addition to the school and will provide the pupils with opportunities to undertake archery on a regular basis. Archery is a very inclusive sport that people of all ages and abilities can take part in and the new facility will really develop our sports offer within the school. 
It was brilliant to have Victoria here to open the booth and inspire our children to potentially follow a similar path into sport. 
This project wouldn't have been possible without the support from numerous donations and the hard work of our internal school team. I would like to say a particular thank you to our PTA FOSA for all their hard work in raising the final funds to complete the project."