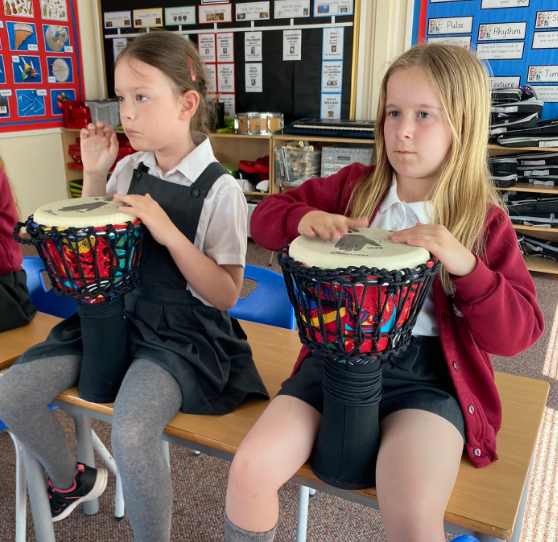 Chapel St Leonard's Primary School are delighted to have achieved the Music Mark, which 'celebrates schools who are committed to providing a high-quality music education.'
The Music Mark status was achieved through:
· Evidence of a willingness to engage in development conversations related to improving music provision
· Recognition of the value of music education as part of a broad and balanced curriculum
· A strategy for music in place which provides for all children
Driven forward by Year 4 teacher, Charlotte Smith, music at Chapel St Leonards has reached new heights. Alongside singing festivals and music performances, children have experienced professional coaching to produce their own recordings, along with opportunities to experience djembe drumming which originated in West Africa around 800 years ago.
The school also welcomed singer-songwriter Hayley Sanderson, a vocalist on Strictly Come Dancing, who played a live performance with her 4-piece band and provided vocal coaching to the children.
Tom Shaw, Headteacher at Chapel St Leonard's, is full of praise for Miss Smith. He explained, "Miss Smith gives up her lunchtimes to run clubs and has raised the profile of music to the next level. She has drive and commitment, along with an 'I can' attitude to breaking down barriers for our children which has now being recognised by the Music Mark Award."
Visit the Chapel St Leonard's Facebook and Twitter pages to see some of the fantastic music work in action!