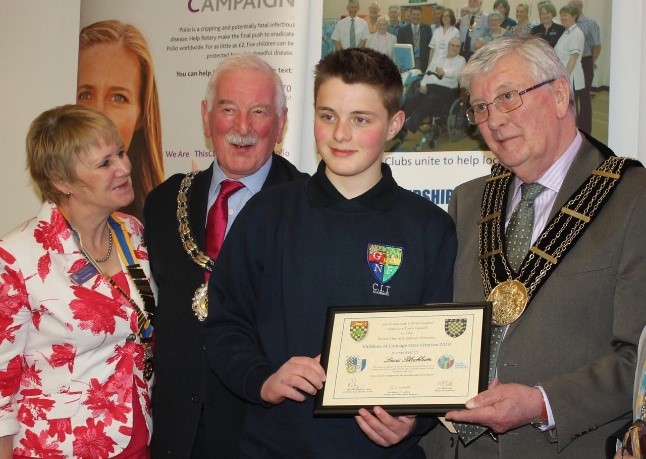 On Wednesday 7th March 2018 the Urban Hotel, Grantham was the setting for The Rotary Club of Grantham Kesteven 7th annual Children of Courage Awards.
All of the local children who were due to receive an award on the day were nominated by their school for, as the title suggests, showing exceptional courage in their lives.
Two GANF pupils, Lewis Blackburn and Lyndsay Hall were invited to attend with their families and representatives from school.
Sue Kinder, president of the Rotary Club of Grantham Kesteven said, "We are here to honour six young people in our local community who against all odds have shown great courage and overcome difficulties in their personal circumstances".
Lewis, who attends Ambergate Sports College, was accompanied by Seriena Hodder, GANF's Safeguarding and Pastoral Lead. Lewis has been at the school since June 2016.
Mrs Hodder was asked to tell Lewis's story at the event. She began, "I cannot do justice to the extent of this remarkable young man's personal journey in the time provided today! Some of the reasons why we have selected this young man will only be known by those closest to him but please trust my judgement on the progress and commitment he has made overcoming so much that was holding him back." Mrs Hodder then went on to say, "With the extent of his condition now evident Lewis engaged with support from CAMHS, school pastoral team and counselling, and with steel determination he began to turn things around. With a maturity beyond his years he started reflecting on what worked for him in managing his behaviours more effectively. Lewis has always been a delightful and caring young man, but he is now happier in school then he has ever been, he has loads of friends, he is captain of the school football team, our chief goal scorer! Role model and inspiration to his peers, his teachers and his family".
Next was the turn of Lyndsay. Lyndsay has attended GANF since 2007, and is now at Sandon School 6th Form, and was escorted on the day by her family and school teacher, Joanna Morgan.
Mrs Morgan said about Lyndsay, "she is always so outgoing, kind and helpful and approaches everything with such optimism and lets nothing get in her way, despite facing some difficult times. Recently Lyndsay's Father has been experiencing ill health which has significantly impacted the family emotionally and practically. During this time Lyndsay has taken on the responsibility of helping her parents to look after her younger sister who as has additional needs, but you would have never known because Lyndsay's outgoing attitude has never altered."
After the presentation of awards to the worthy recipients, Sam Ruddock, a Paralympic Track and Field athlete for Great Britain and Northern Ireland, talked openly about his daily struggles living with cerebral Palsy. Mike Cook, Mayor of Grantham was also in attendance to help present the awards to the children.
[Photo's courtesy of The Rotary of Grantham Kesteven]