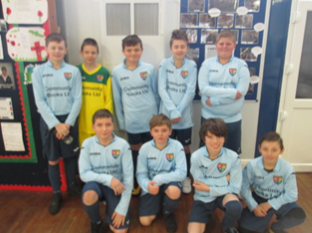 Ambergate Sports College 12 v 6 The Phoenix Academy
Ambergate made the short journey to The Phoenix Academy on Wednesday 7th March 2018 and were excited to participate in another school football game. For many of the players it was their first time playing indoor and 6 a side football. The team had to quickly adapt to the new rules, such as not going into either penalty area and being able to use the walls. It was very clear that the opposition team play a lot of indoor football and looked to settle into the game the quickest. Ambergate started frantically as it seemed many of the players had a lot of nervous energy. The first goal for Ambergate was  crucial and came at a good time as it allowed the players to calm down and play the excellent football they show in their PE lessons and during lunchtime.
Both teams were evenly matched and enjoyed the competition. There were plenty of tackles and shots on target. Both goalkeepers produced an excellent display.
Reggie Wedge scored Ambergate's first goal and went on to score a total of 6 goals. Ryan Tilbury also scored a hat trick.
Corey Smith was outstanding, showing brilliant skill and control. Many of the goals came from hard work and persistence or through the vision of Corey. His first thought was to control the ball and pass to a player in an advanced position. Matthew Cartwright was fantastic throughout the game, making excellent saves and delivering brilliant balls forward from his area.
Comment from Mr Maltby:
The team worked very hard and kept creating chances to score throughout the game. All pupils enjoyed representing the school and showed excellent sportsmanship throughout. I am very proud of every player and look forward to the next fixture.
Goals
–          Reggie Wedge x 6
–          Ryan Tilbury x 3
–          Frank Osbourne x 1
–          Leon Wells x 1
–          Corey Smith x 1
Team – Matthew Cartwright, Freddie Haude, Reggie Wedge, Braydon Davison, Sean Colman, Frank Osbourne, Corey Smith, Ryan Tilbury, Leon Wells
Man of the Match – Reggie Wedge