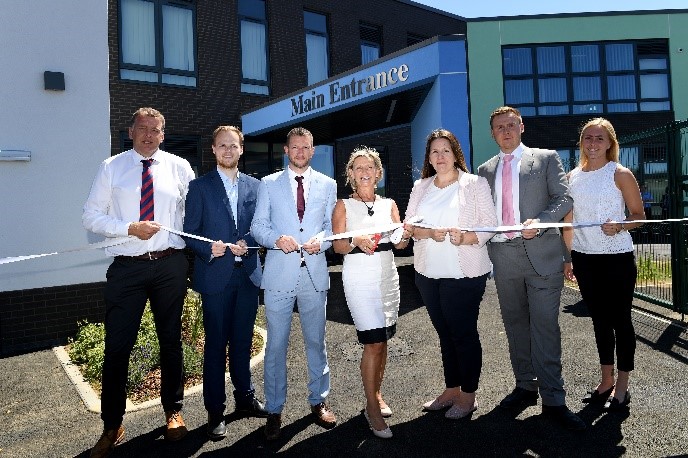 Brand new local school for Grantham
The build of Poplar Farm School has been dominating the landscape to the north-west of Grantham for the past two years. Completed last week, the official hand over took place on Monday 2nd July between Wates Construction and Lincolnshire County Council (LCC), with keys then being passed to C.I.T Academies to run the school for local primary school children in the area.
Councillor Mrs Patricia Bradwell, Executive Councillor for Children's Services, said: "This new two-form primary school with a capacity of 420, will serve a new housing development in the north west area of Grantham.  We are looking forward to the new school opening its doors to the first intake of pupils in September which will provide much needed school places in the area. It's another valuable addition to the excellent range of schools we have throughout the county, providing the best education for children and young people of all abilities."
The school has been created with modern learning in mind and comes complete with extensive outdoor sports facilities, break out rooms, a state of the art kitchen, and internally providing as much natural light as possible.
John Carlin, Business Unit Director, Wates Construction Midlands, said: "It's very pleasing that, after two years of hard work with our partners on this project, we are able to today hand over an outstanding school to LCC and C.I.T. This reflects a great working environment as well as the efficient and effective procurement process offered by the empa framework. I am immensely proud of the work our team has done in creating the new school, and I'm sure that for many years to come future generations will benefit from learning in this fantastic establishment."
The keys to the school were handed to Jenny Wheeldon, Principal of Poplar Farm School.  Peter Bell, CEO of Community Inclusive Trust (C.I.T.) who will be responsible for running the school said, "I am delighted and proud to have worked in close partnership with the Local Authority, the DfE, and Wates Construction, to open an outstanding purpose built primary school for the children within the local area. Poplar Farm School will open its doors to reception children on Wednesday 5th September. We are looking forward to welcoming them."
The project was procured through the empa framework, by procurement specialists Scape Group, a public sector organisation dedicated to creating ongoing efficiency and social value via the built environment.