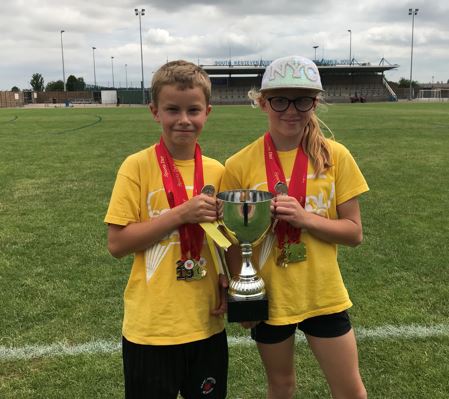 Key Stage 2 pupils enjoyed the fantastic facilities at the South Kesteven Sports Stadium, home of Grantham Town FC, as they entertained family members with a thrilling Sports Day.
Upper Key Stage 2 pupils were granted the opportunity to try long jump, working on their technique as they leapt from the board into the sand pit. Supported by Dave from Grantham Athletics Club, who kindly gave up his time to support the event, pupils continued to improve their long jump prowess throughout the morning.
The throwing events took place in the javelin throw area, whilst the main stand overlooked a thrilling display of running on the track. Pupils took on skipping, bat and ball, flat races and sack races before relay events closed out the morning's action.
The podium was used to celebrate the winner of each event with several pupils picking up numerous gold medals. Yet it was Saunders House who were the eventual champions, accumulating the most points throughout the morning.
Two days later, EYFS and Key Stage 1 pupils took to the field in their Sports Day events. In quickfire back-to-back races, the pupils challenged themselves against their peers in flat races, sack races and bat and ball, followed by a relay event. Once again, a fantastic turnout of families and friends witnessed their children in action, whilst the toddlers enjoyed their race at the end of the morning.