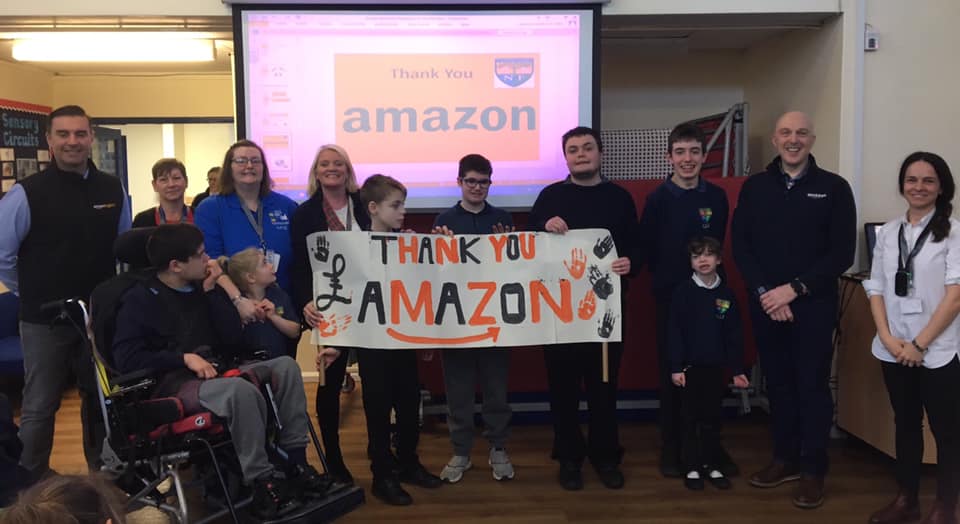 Friends of Sandon and Ambergate (FOSA) are delighted to announce they have received a £2,000 donation from Amazon to support pupils at two Grantham Special Education Needs schools.  The schools cater for pupils between the ages of 3 and 19 with moderate to severe learning difficulties and complex needs.
The donation is part of the Amazon community programme, underpinning their belief that 'all children deserve an equal opportunity to reach their full potential in today's digital world'.
The funds will be used to improve outdoor areas, supporting pupil need and creating a positive environment.
Amazon state on their website, 'By giving less advantaged children and young people support, we want to play a role in improving their development, educational attainment and career prospects, ultimately helping them to lead better lives'.
Katie Bennington, Chair of FOSA, invited two members of staff from the Amazon community programme to have a tour of Sandon School and meet the staff and pupils. She also introduced them to the facilities FOSA have spent previous donated funds on, including therapy rooms, a sensory garden and playground equipment, amounting to over £50,000 in the last three years.
Matthew Thompson, Day Shift Area Manager from Amazon said, "Thank you to all of the outstanding staff and pupils of Sandon School for allowing us the honour of visiting. We were truly humbled by the fun and joyful environment we experienced".
Katie added, "Thank you to Amazon for their very generous £2,000 donation to the school. This is a phenomenal amount of money and will go such a long way to transforming the pupils' outdoor areas."