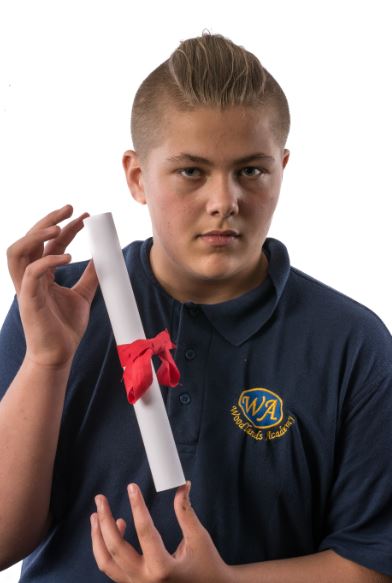 Dexzym Doughty has attended Woodlands Academy since he was 11 years old. His interest in Latin all began in 2014 when he discovered Caecilius and his family. Dexzym's classical journey started with Latin sessions during Friday's 'reward time'.
He started with Book 1 Stage 1 of the Cambridge School Classics Project, and over the next four years, during after-school clubs, Dexzym worked through over fifty online books, an Entry Level, and finally a GCSE.
On his Latin journey Dexzym travelled the Roman world, from Rome itself to the eruption of Pompeii, from Roman Egypt to Britannia, and finally from the gladiatorial arenas to the world of Julius Caesar and Vergil and his heroes.
Dexzym's success is a lesson to us all. He was fed with resource books and primers and he worked every week, at home and at school, on grammar, in which he excelled to the point that he successfully completed GCSE papers in half the time allotted.
Dexzym memorised nine passages of Caesar and Vergil so that he could answer questions on style and content in the Literature papers.
Cambridge School Classics is popular in many Grammar and Independent schools but we bet there aren't many pupils from a SEMH secondary school to achieve a Grade 7 (equivalent to a Grade A!).
All the staff at Woodlands would like to congratulate Dexzym on his huge achievement, and wish him all the best for Boston College, where he is now studying for his A Levels in Law, Maths, and Psychology.