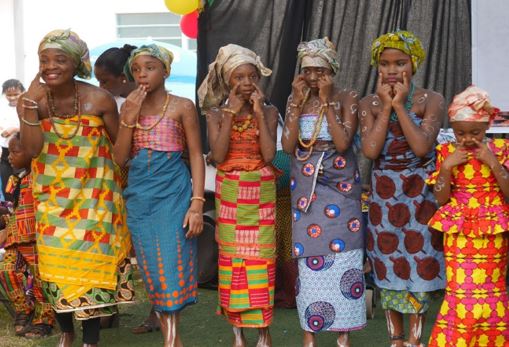 Sandon School and Ambergate Sports College have begun an exciting partnership with a school in Ghana.
Multikids Inclusive Academy is an accredited international school, located in Ghana, West Africa. It is Ghana's first international inclusive school, educating children in a vibrant specialised environment, regardless of academic, social or physical needs. Multikids is a unique school where all learners can achieve their potential when given the right tools and support.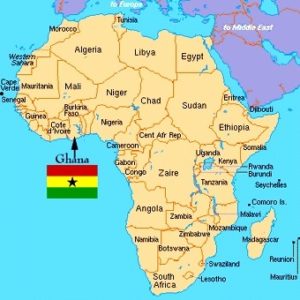 Founded in February 2010 by Mandy Budge and Sigrid Kootstra, Multikids is a school that cares about its pupils, its staff team, and the world in which we live.
To symbolise the union between our schools, we have created a symbol to represent unity in diversity. This is based from Adinkra symbols. Adinkra symbols represent concepts or aphorisms, and are used extensively in fabrics and pottery among the Ashantis of Ashanti Kingdom and the baoules who historically migrated from Ghana.
During the Summer holidays, one of Sandon's Leads, Andrea, visited Multikids and met the staff who work out there. Here is Andrea's write up about her amazing experience…
When we think about Africa, we cannot help but imagining lions and elephants running free in the streets. Everything we imagine appears to be a fantastically leisurely land that can make it an ideal destination for unwinding and relaxing from the tumult of everyday life. However, in the heart of this vast continent something special is starting to happen.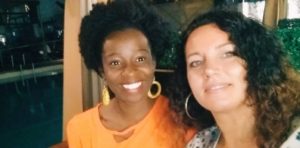 Ghana is a former British colony in the West Coast of the continent, which spans a land mass of 92,099 sq mi and has a population of 30 million people. Ghana is a multilingual country in which English is spoken, as part of the British inheritance, along with Ga, Twi, Ewe, Dangme, Nzema, Gonia and Kasem.
Accra is the capital city of the country and has over 2.2 million population. Accra is a city full of contrasts, even within the same street you could appreciate the enormous disparity between rich and poor, although it does not stop them from showing their incredible hospitality and love for every person they welcome into their lives.
I spent 2 weeks of my summer holidays volunteering in one of our partner schools there and I could not have enjoyed it more! Multikids Inclusive Academy is located in the district of East Legon. It was founded by Mandy Badge and Sigrid Kootstra and they will celebrate their 10th year anniversary in February 2020. It is a self-funded school that started with only 10 children and has developed into a primary school and a secondary school with over 100 children in such a short time. They have fought for an inclusive education even before inclusion was embraced by the government and a change in legislation occurred in 2016. Multikids Africa has trained over 700 teachers across the country, enabling a better understanding of inclusion and, also, specialising teaching.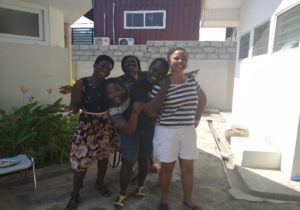 The classrooms have a mixture of mainstream children and children with special educational needs, being those, deafness, Cerebral Palsy (CP) and Autism. Teachers are highly specialised and cater for all the levels and needs of the children. It's hard but they do it well. On the primary site, there are 5 speech and language therapists, 1 physiotherapist and 4 sign interpreters, they also run a community clinic that initially started supporting children with CP. I had the fortune to share house with 2 sign language interpreters, 1 speech and language therapist and a teacher, and the professional discussions we had sharing water (gallons and gallons of water! It was that hot!) some evenings were very enriching. I must admit they work really hard to facilitate learning with the limited resources they have, after all, Ghana is a developing country.
The team of therapists have built, in some cases, seating systems out of paper and cardboard. The classrooms are basic but functional, and at the moment they are just waiting to be decorated with the children's work. Accra is an immense city where travelling can become a challenge, for children and staff. Some members of staff have to take several trotros to reach the school in the mornings, others stay in shared accommodation nearly all year and hardly see their wives, husbands and even children during the year. The day starts at 7:30am and ends at 3pm. Imagine walking or driving the little ones that early to school.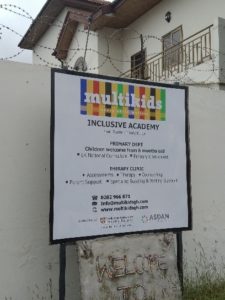 Eating is a big part of their culture and food stalls are available nearly everywhere with local dishes (some too spicy!).
Children address their teachers as auntie or uncle, as there is a deep respect for family and family values and therefore, children need to learn to show that same respect for the people that help them to learn.
There is also time for fun and in this rich, colourful and diverse culture you can only imagine smiles all around with lots of music and singing. 
I have so much respect for those practitioners that succeed to educate and nurture children, despite of the everyday difficulties, and managed to grow stronger and even educate a little part of their community.
I would personally go back in a heartbeat to learn and enrich my own professional practice even more and can certainly say that I will always carry Ghana, and the people that made my stay special, in my heart for the rest of my life.
Thank you Ghana.